Missouri Governor Wants National Guard To Quell Protests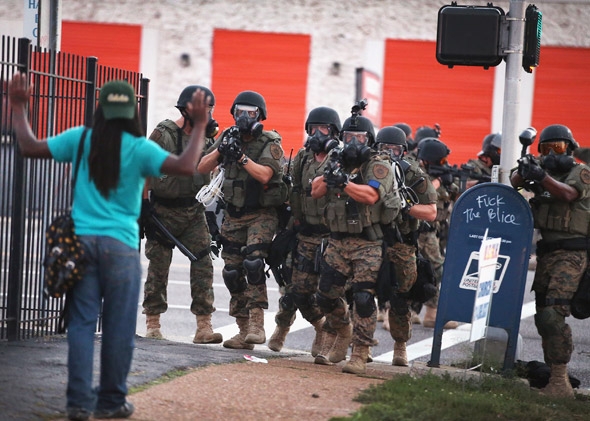 Missouri's governor said on Monday he would send the National Guard into the St. Louis suburb of Ferguson to restore calm after authorities forcibly dispersed a crowd protesting last week's fatal shooting of an unarmed black teen by police.
Gov. Jay Nixon signed an executive order deploying the U.S. state militia, saying demonstrators had thrown Molotov cocktails and shot at police as well as a civilian, a description of the night's events diverging widely from some eyewitness accounts.
"Tonight, a day of hope, prayers, and peaceful protests was marred by the violent criminal acts of an organized and growing number of individuals, many from outside the community and state, whose actions are putting the residents and businesses of Ferguson at risk," Nixon said in a statement on his website.
A midnight curfew was imposed for the second night in the tense St. Louis suburb hit by racially charged demonstrations, violence and looting since Michael Brown, 18, was shot to death on Aug. 9 by white police officer Darren Wilson.
At around dusk on Sunday, hundreds of protesters in Ferguson including families with young children fled to safety after police wearing gas masks and body armor fired tear gas and smoke canisters to scatter them hours ahead of the curfew.
"The smoke bombs were completely unprovoked," said Anthony Ellis, 45. "It (the protest) was led by kids on bikes. Next you know they're saying, 'Go home, Go home!'"
The Missouri Highway Patrol said "aggressors" were trying to infiltrate a law enforcement command post and that armored vehicles were deployed to ensure public safety.
READ MORE HERE:
http://www.reuters.com/article/2014/08/18/us-usa-missouri-shooting-idUSKBN0GF0LP20140818
---